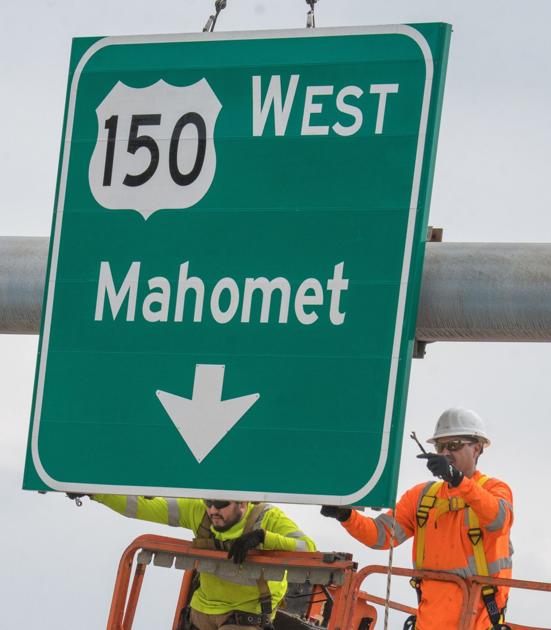 After Reflection No Light Needed For New Road Signs | New
[ad_1]
CHAMPAIGN – The company that makes scotch tape and post-it notes also manufactures a new reflective sheet that is installed on new road signs in the city.
The Minnesota-based company 3M is making the new foil, which an Arkansas company is using to make the new panels that contractors have installed over the past two weeks along the freeways that run through Champaign-Urbana.
"This is an improved coating so that lights on the structures are not needed," said Jake Daczewitz, one of the owners of Kujo, who installs the signs for the Illinois Department of Transportation. "When car lights illuminate signs, they are reflective enough that cars can read them, whereas before they needed light to illuminate signs."
Gary Simms, the traffic operations engineer for IDOT District 5, said the new signs meet new federal guidelines for reflectivity that were passed about a decade ago.
"So, as in 2009, the Federal Highway Administration mandated a retroreflectivity standard for signs. … All states have had to adopt a method to maintain this, "said Simms. "Originally these large green signs were not considered part of this requirement. Later it was clarified that they are."
The new siding has a 15-year warranty, so one-fifteenth of the panels in each quarter are replaced each year.
"We have a 15-year cycle, so every year we basically take a bite-sized piece, a fifteenth of the district a year we change," Simms said. "DeWitt County was last year. This year they are working on Piatt County. Then we'll go see McLean's monster. "
Because the panels are made of aluminum, they were affected by the 10 percent tariff on aluminum imports.
"It was painfully slow. Trump's tariffs created a lot of problems with the contractor getting the materials they needed to make the panel," Simms said.
Kujo is supposed to install the panels within three months of receiving the order, but Simms said they were granted a five-month extension.
"They realized they couldn't get the materials they needed to make the panels," Simms said.
Kujo himself does not make the signs. It just installs them.
Daczewitz said an Arkansas-based company called Interstate Signways makes them.
"The prices have gone up, from what they told us," he said. This "increases our offer to the State, so the State will obviously foot the bill."
Kujo installs most of the road signs, Simms said, although IDOT is installing new signs as well as replacements for damaged signs.
"That's a lot. They're like magnets if you slip out of the way," Simms said.
[ad_2]