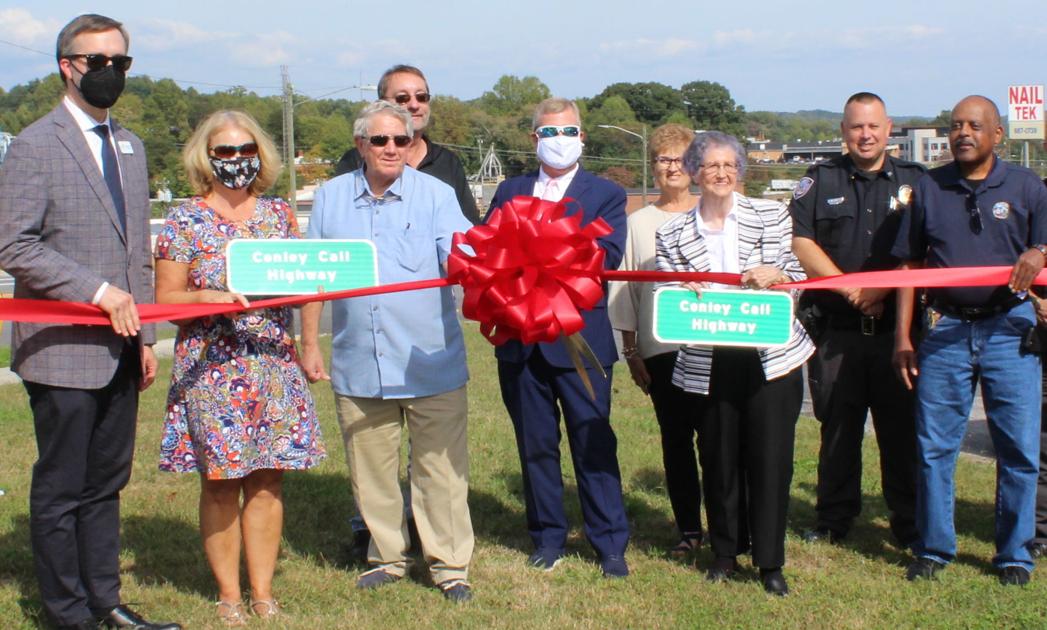 'Conley Call Highway' signs go up | New
[ad_1]
A two-mile section of NC 268 East in North Wilkesboro is now publicly marked with signs reading "Conley Call Highway" in memory of the government, business, church and longtime civic leader here.
Call and city immediate family members and North Carolina Department of Transportation officials gathered on Thursday to dedicate the freeway, from Second Street to the city limits, in memory of Call.
The NC Board of Transportation unanimously approved the designation in December 2018. The North Wilkesboro Commissioners approved it in October 2017, and Call's immediate family applied for it in late August 2017. Call was 86 when he was called. he died in early December 2017.
"I want to thank everyone for their contribution to achieving this goal," said Gracie Call.
The "Conley Call Highway" signs were not installed until the 3.7 mile widening of NC 268 from Second Street to Airport Road was completed earlier this year. Entrepreneur Young & McQueen Grading Co. began work on the project in the spring of 2015.
Call served two four-year terms as mayor of North Wilkesboro, beginning in 1993. After becoming a North Wilkesboro firefighter in 1956, he served in that fire department as lieutenant, captain, deputy chief of firefighter, then as chief until his retirement in 1993.
He chaired the city's Urban Renewal Commission in the 1970s. Using primarily federal dollars, the commission was instrumental in shaping the current physical structure of North Wilkesboro.
Call was a staunch supporter of progress in Wilkes County. "A rising tide lifts all boats" was one of his favorite quotes.
He has been a member of the North Wilkesboro Housing Authority, Wilkes Regional Medical Center Review Board, Wilkes County Board of Election, Wilkes Chamber of Commerce, Wilkes County United Way (including the chair), Wilkes Community College Advisory Board (including the Chairman) and the Wilkes Fireman's Association.
Call worked at American Drew in furniture manufacturing in North Wilkesboro for 53 years, most notably as senior vice president of distribution and purchasing.
He was a member of the North Carolina National Guard and Army Reserve for 37 years and the Guard Unit Commander in North Wilkesboro. He retired as a colonel in the Army Reserve.
At First Baptist Church in North Wilkesboro, Call was a teacher in the John T. Wayland Sunday School class, deacon and president of the Baptist Men's Brotherhood and director of the Training Union. He was president of the Brushy Mountain Baptist Association. Call was also a member and administrator of the Flint Hill Baptist Church in North Wilkesboro.
He was a member of the Union Odd Fellow Lodge for 63 years, former Grand Master of the State of North Carolina, former Sovereign Grand Master of the Independent Order of Odd Fellows for the World, former Master of the Masonic Lodge of North Wilkesboro-Yorkrite- Scotchriete and Sanctuary.
[ad_2]