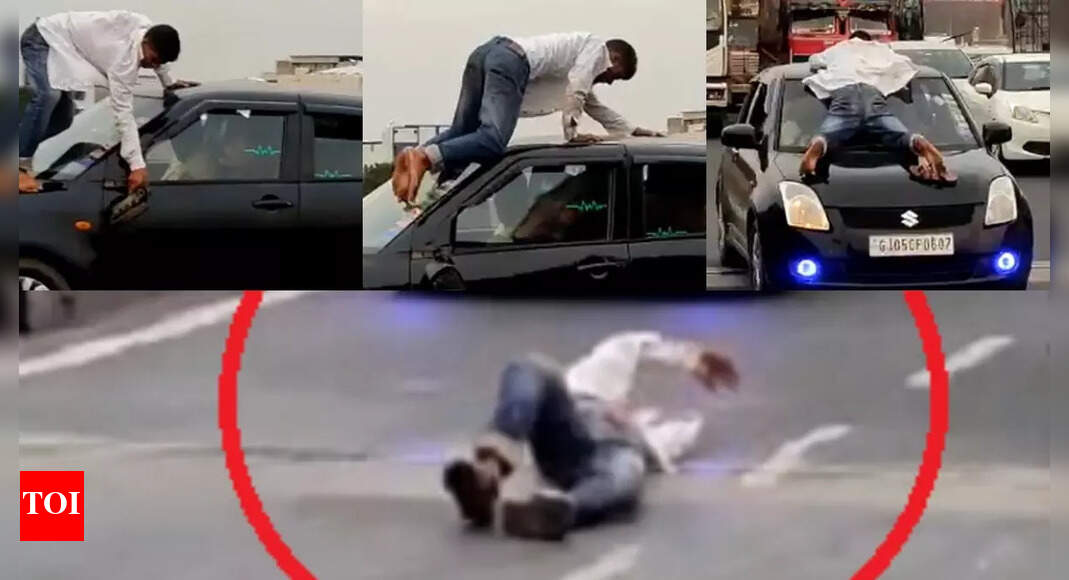 Gujarat: A man creates a ruckus on national road 48 near Surat, damaging some cars | Surat News
SURAT: An unidentified man caused a ruckus on the Pipodara airlift on state road 48 near Kim on Monday evening, causing a traffic jam and damaging a few cars.
A 30-year-old man under the influence of poisoning was then beaten by locals on the stretch of highway between Surat and Bharuch. He mysteriously disappeared from the place. Videos of the man creating unrest have gone viral on social media.
The man stepped on the FOB and started to block the road first. He damaged the license plates of cars, climbed a few and even jumped on them damaging their roofs.
He broke windshield wipers, mirrors, and smashed the front glass of a few cars. He also blocked the route of the trucks but did not damage them.
He later fell on the road several times and started rolling as well.
The people inside the cars were shocked and could not immediately react to the man's sudden behavior without any provocation. After a while, a few people got out of their vehicles and grabbed the man. Residents also joined them and took the man to the side of the road for questioning.
"The man was grabbed by people but escaped from the area when the police arrived. The cops were informed late in the evening," a policeman told Kosamba police station.
To concern
Viral video: drunk man creates ruckus on national road 48 in Surat