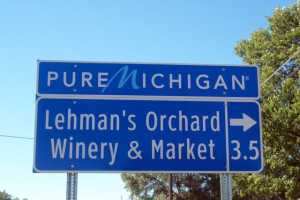 How about some new road signs for the new year? Part 1
[ad_1]
Agri-tourism, cultural, historical, and related operations may be eligible for Michigan's special signage programs on state major lines and interstate highways.
Most of us have seen and used the blue road signs along our highways. If you operate one of the many destination businesses or organizations, you may want to consider getting them in 2016.
The Michigan Department of Transportation (MDOT) Tourist directional signs The (TODS) program has specified businesses such as wineries and agricultural markets, in addition to cultural, historical and recreational and related operations, as eligible. Organizations must derive a large portion of their income from out-of-region travelers and welcome at least 2,000 visitors per year. The six-by-two-foot signs can be placed on rural trunk roads, but not at interchanges on highways or highways. The client pays an annual fee of $ 360 per year per sign. Smaller, pioneer signs placed on local roads in conjunction with larger TOD signs, if required, can be obtained for $ 120 per year per sign.
"Once we installed the sign on the US-12 and attracted new customers, we decided to expand our use of freeway signs with great success," says Steve Lecklider of Lehman's Orchard, Winery and Farm Market in Niles, Michigan. "To us it seems official and the placement of the sign near the intersection is perfect."
MDOT designated Michigan Logos, Inc. to implement the signaling program. Michigan Logos has helped over 750 clients with over 1,400 brands across the state since the program began in 1997. They are responsible for the design, installation and maintenance of the signs. Contact their office at 517-337-2267 for more information.
Michigan State University Extension and Product Center advisors provide free business advice to Michigan's food, agriculture, natural resources and organic operations. Call 517-432-8750, or visit our website.
Other articles in this series:
Did you find this article useful?
[ad_2]