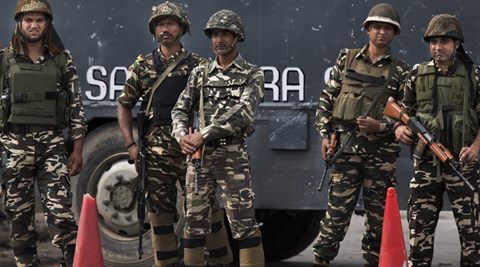 On upcoming Independence Day, the military strengthens security along the national highway in northern Kashmir
[ad_1]
With Independence Day only days away, the military began to increase its presence along the national highway and in rural towns, particularly in northern Kashmir. The military has also started securing highways for vehicular and convoy traffic, along with J&K police and paramilitary forces.
After the assassination of Hizbul commander Mujahideen Burhan Wani last month, the army altered the movements of its convoys late at night and even suspended some convoys because they did not want to face the protesters who occupied most of the main roads. of the day.
The army has already imposed a nighttime curfew in North Kashmir and does not allow the movement of civilians from 9 p.m. to 6 a.m. The military had placed dozens of Casper bullet-proof vehicles along highways, especially in hot spots in major cities. Even some convoys have now started to move in the morning.
The defense spokesperson told The Indian Express that the military's job is to secure the passage of its own vehicles. "Even the military will help the state government, if asked. The army moves according to its needs. "
Recently, the head of the Northern Command, Lieutenant General DS Hooda, met with Chief Minister Mehbooba Mufti in Srinagar and assured him that the military was ready to assist the civilian government at the request of the state government. During the meeting, CM Mufti discussed the situation with the army commander, especially in southern Kashmir and Kupwara.
Officials said the military had been urged to step up vigilance in rural areas and highways ahead of Independence Day celebrations.
In addition to the internal movement of convoys within different formations in Kashmir, approximately 15 to 17 convoys move on the Srinagar-Jammu National Highway under the appropriate protection of the Parties to the Opening of the Roads (ROP). Most of these convoys have now resumed. Sources said the military now plans to move its convoys during the day.
During the peak of the protests, the national road was blocked at 45 locations from Baramulla to Qazigund as protesters, especially young boys, placed concrete, barbed wire, tubular steel poles, stones, logs. and large trees to block roads and highways. . Officials, however, said there was a noticeable improvement in the situation on the national road, although many pockets on the national road are still venerable for the protests.
Officials said that after August 15 and the climax of Amarnath Yatra, the army may be deployed to areas that are still vulnerable and closed to police and paramilitary areas.
[ad_2]