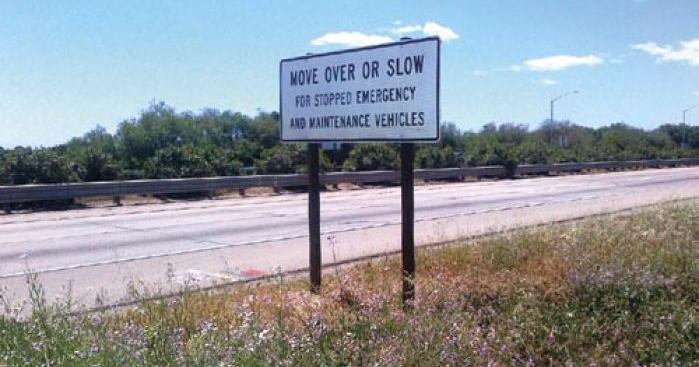 Road signs remind motorists to 'move on' | Local News
Caltrans and California Highway Patrol workers want motorists to 'move' according to law and have posted signs along local highways to remind drivers to move to the next lane or slow down when encountering vehicles emergency or maintenance stopped at the side of the road.
Efforts to remind motorists of the Move Over law, which went into effect in 2007 and was amended in 2009, took the form of permanent signs and messages on electronic highway signs, according to the state Department of Transportation.
The new signs were installed and in place across the state starting last week, and "moving out" email messages should continue to pop up from time to time.
"Every day, highway workers put their lives at risk just by going to work," Caltrans executive Malcolm Dougherty said. "We are asking motorists to slow down, watch for highway workers and CHP, and move safely into a lane when they see flashing amber lights on Caltrans or other emergency vehicles. "
CHP Commissioner Joe Farrow added that every year an increasing number of law enforcement and other emergency personnel, as well as road workers, are killed or injured along the roads. Californians.
"One way to help minimize risk to these workers is for motorists to do their part by being careful and exercising caution on the road. If you see hazard warning lights on the shoulder in front of you, the law requires you to move or slow down.
The state's relocation law, which initially required motorists to move or slow down to approach emergency vehicles, was amended in 2009 to add Caltrans vehicles displaying amber warning lights to vehicles where drivers need to slow down or move. Those who break the law can be cited and fined up to $50.
Colin Jones, spokesman for Caltrans District 5, which includes Santa Barbara and San Luis Obispo counties, said the signs are just an added safety measure for crews working along the roads as well as for the car drivers. Funding for the panels came from Caltrans' panel maintenance budget.
"Most motorists are very cooperative in this regard (moving), but it is important to inform everyone that this could be a hazard if they are not careful when driving through construction zones."
The signs also remind drivers to stop for amber lights as well as police or fire colored lights, according to Jones.
"We just want people to recognize that amber lights mean there's a situation on the freeway," he added.
Jones said about 700 electronic signs were put on display last week statewide and about 100 fixed signs were erected statewide, including the Central Coast.
Santa Maria CHP officer Rob Miller said he hasn't noticed much of a problem locally with drivers not following the move law. Large trucks, in particular, do a good job of moving well before they reach the parked emergency vehicle or Caltrans vehicle, he added.
He said CHP officers don't often write tickets for breaking the law unless they're already at a traffic stop or assisting another officer at a stop and notice a violator. .
Miller did not have statistics on the number of tickets written in the Santa Maria area due to the Move Over Act.
"We're not out in force looking for him," he said, adding that the new "move" signs are a good idea, despite the apparent general adherence to the law.
"It just sort of gives people a head start," he said.