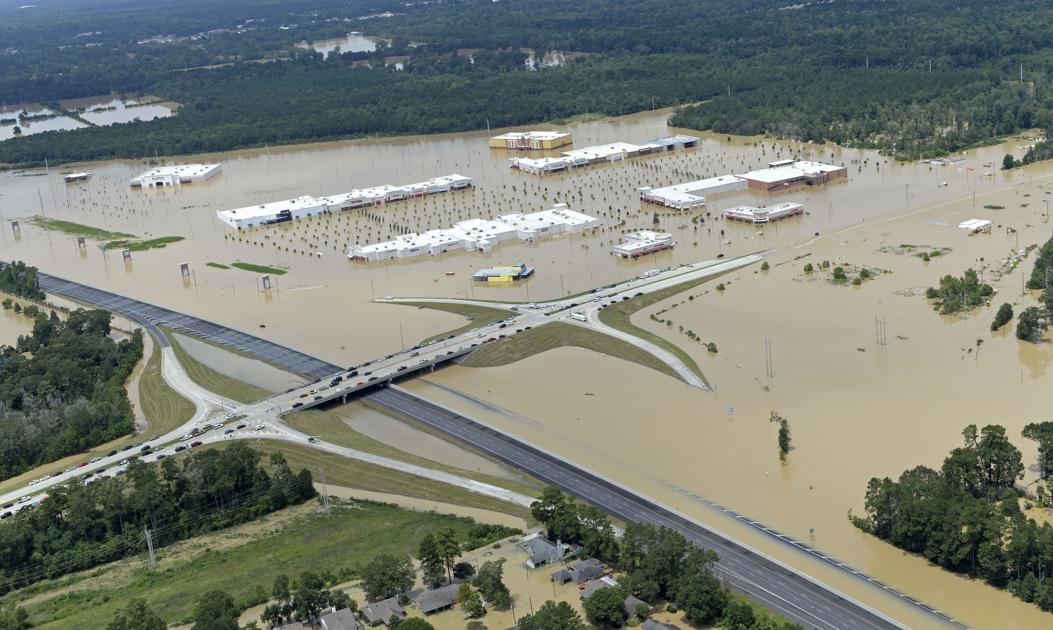 Stranded overnight on the flooded Louisiana Interstate Highway? Here is how it could have happened | New
[ad_1]
Lawyer Michael Dunlap's photo editor was among hundreds of motorists stranded on I-12 during flooding this weekend. Here is his account:
After watching Baton Rouge go through torrential rains much of Friday, I figured I would wake up on Saturday and find people bracing for the devastation of the floods, then return to The Advocate for my shift.
Can't see the video above? Click here.
My trek started shortly after 10 am en route to Central where there was heavy flooding. My trip ended when I got to the intersection of O'Neal Lane and Old Hammond Highway, which was impassable for my Honda Civic.
After photographing a car attempting to cross the pass, I drove to Livingston Parish for citizens to stock up on supplies to weather the storm.
My eastbound trip on Interstate 12 got interesting as we approached the Amite River, when traffic started to congestion on the westbound lane.
Denham Springs was my destination and when I got to the South Range Avenue exit I encountered barricades and emergency vehicles, not allowing entry.
At this point, I made my way to Juban Crossing hoping to get some pictures at Rouses Market. I got to a moderate flooding of the parking lot, took some photos, and started my trip back to the office.
As I prepared to merge from Juban Crossing into the westbound lane of the freeway, I noticed several cars were turning around and driving in the opposite direction. At this point I figured I would continue east on I-12 to Hammond and take Interstate 55 back to I-10 to get to the office.
The traffic was fast for several kilometers. The congestion only started when we approached a construction area after Exit 19 and it finally came to a complete stop.
The water was coming from the north on the westbound lane through a grassy median and onto the eastbound lane at a very rapid rate.
The water seemed to be two or three inches high, but my concern was that it was rising.
The water flow was higher on the other side of the construction site, so I went very slowly and encouraged traffic to pass by using my hazard lights and signaling the drivers next to me on about 100 meters.
The congestion and a halt started again a few miles up on another bridge construction site, but by that time the track was dry. Sitting in traffic, I noticed that the water in the median was rising.
After what appeared to be several minutes, water was flowing over the track. I could see the force of the water rolling under the bridge and I was afraid my Civic would be swept into the woods if the cars didn't move on.
A fawn struggled to find dry ground and was swept away in the middle. As disheartening as it was, the traffic convoy began to roll despite the high water. The convoy concluded about a quarter of a mile from the Holden Exit, which was flooded. I was pleasantly surprised to see that the area where we stopped had no sign of rising water levels.
Motorists began to get out of their vehicles and walk, many in front of the convoy. By this point it was around noon and I started having conversations with motorists and being briefed on the situation by those passing by.
A few hours later, I befriended a motorist behind me, Philip Crochet of St. Francisville, who was driving towards Mandeville with his wife. His daughters feverishly collected news and relayed it to him.
Crochet's Ford truck seemed to be the meeting point where many motorists were discussing our situation. There were rumors of a National Guard vehicle rescue, but most thought we had to wait until the waters were over.
Crochet brought up the one thing that worried us the most: the food. Most of us had been on the road during lunch, and dinner time was just around the corner.
I was about to grab a bite to eat on the way to the office and hadn't eaten anything. We hoped that with the National Guard helicopter overflight, boxes of ready-to-eat meals and water would follow.
Military vehicles traveling east on the westbound lane never applied their brakes. We sat in the Ford's hatchback and chatted until 11pm before heading back to our vehicles to sleep. A chaos-filled day ended with clear skies and cool temperatures.
I was woken up several times during the night by military vehicles and helicopters, but slept relatively well until a text at 4:53 am made my heart beat faster.
A friend who lives in Sherwood Forest and Old Hammond Road told me that the embankment on the River Comite had broken and they were forced to evacuate. I was sad that I couldn't be there for them.
I tried to contact my family but to no avail. I texted my boss and a few moments later noticed I had no service. I spent the next 15-20 minutes restarting my phone and praying for service to be restored.
Shortly after sunrise I went upstairs to observe the great sea called the Holden Exit. Several people were walking there uncertainly. I noticed vehicles driving through a small paved patch in the median and trying their luck heading west.
When I got back to my car, I thought it was time to do the same. I walked through several deep bodies of water before I got to the Livingston exit, which was covered in water.
Many vehicles stopped but I was determined to pass, so I continued and finally got off the freeway. I took refuge at Bethel Baptist Church in the town of Livingston, which served as a shelter for all who arrived.
[ad_2]