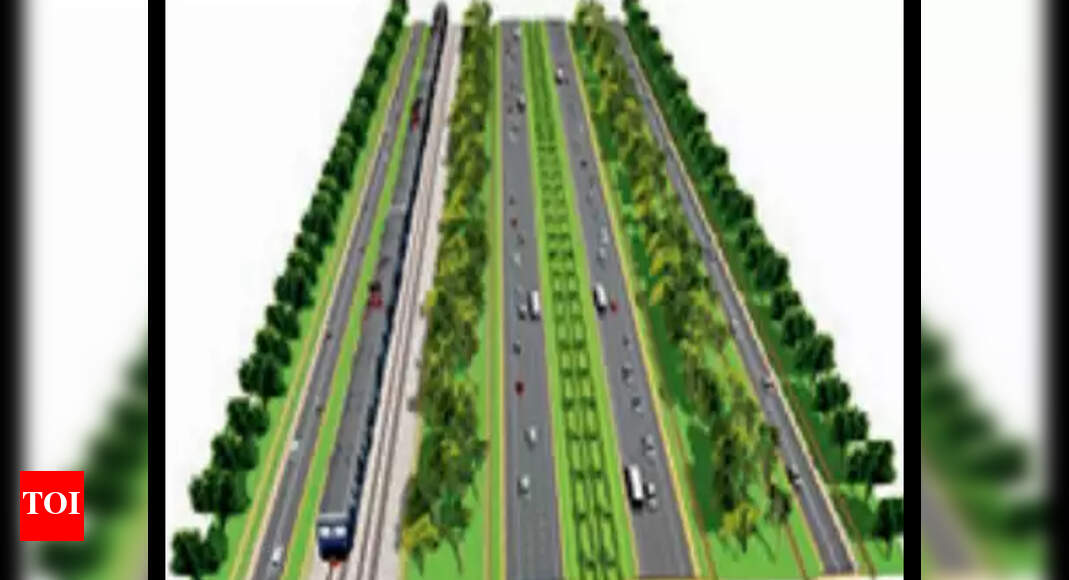 Work begins on the six-lane national road near Venkatapalem in Amaravati | Amaravati News
[ad_1]
AMARAVATI: The long-standing flyby through the Krishna to connect the Amaravati capital region in the Guntur and Krishna districts is likely to become a reality very soon as the state government has lifted the barriers to the acquisition of land. Construction of the six-lane national road has started near Venkatapalem in Amaravati region in Guntur district and the flyover contractor Adani Group is also preparing to start work.
The project was designed a decade ago to reduce congestion in the city of Vijayawada by creating a bypass of existing national highways passing through Vijayawada.
The
National Highway Authority
of India (NHAI) took over the project after seeing a heavy traffic jam on Kanakadurga Varadhi, the only airlift in service, to handle heavy vehicles between Chennai-Howrah. The project was designed so that a six-lane bypass to the current NH-16 is constructed from the village of Venkapatapalem near Tadepalle. A 3.2 km long overflight would land near Gollapudi on the outskirts of Vijayawada town. The NH had offered another ring road to the NH-65 from Gollapudi to Gannavaram to avoid the entry of heavy vehicles into the city of Vijayawada.
Just before the start of the works, the TDP came to power in the state after the 2014 elections, then Chief Minister Chandrababu Naidu blocked the works of the river bridge after the announcement of the capital Amaravati. He wanted to make the flyover an iconic bridge and promised to take additional charges from the Treasury. The bridge being considered as the point of direct connection with the capital Amaravati, he wanted to make it a prestigious project. However, he was unable to finalize the designs leading to the start of the work.
After YS Jagan Mohan Reddy took over the reins of the state, the
state government
abandoned the iconic bridge plans and asked the NHAI to move forward with their original plan to build the flyover. "We have removed all obstacles related to the land acquisition and started the work," said Srinivas, project manager, NHAI.
[ad_2]